Articles and Information Sheets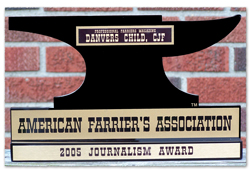 I enjoy writing about farriery almost as much as I enjoy the real work-a-day activity; in fact, depending on the weather, I suppose I sometimes enjoy the writing more….
I serve as Editorial Director for the American Farrier's Association and edit Professional Farrier magazine. In addition to AFA publications, I write articles for a number of equine publications, and I'm currently working on a text, Shoeing Above the Foot, which I'll be wrapping up in the summer of 2011.
I'll keep writing and adding materials to this section, so check back often, and don't hesitate to drop me a note if you're interested in a particular topic. If you find any of these pieces worth printing and sharing, please be kind enough to leave my name attached.